Alberta Government publishes Cannabis legal framework, calls for minimum age of 18 to purchase
The Alberta Government released its Cannabis framework, which can be found here.
Alberta is proposing that 18 be the minimum age to use cannabis. The province however has not decided if Cannabis will be sold through government-owned stores or through private businesses or both.  when new laws legalizing recreational marijuana use kick in next summer.
Some other key components of Alberta's frame work are:
Outdoor growing will not be permitted.
Sales will be in permitted only in specialty stores. Cannabis cannot sold in stores that sell alcohol, tobacco and pharmaceuticals.
There will be a limit of 30 grams per purchase.  Public possession limit of 30 grams but there will be no limit on possession in private residences
Things such as smoking and vaping in public will fall under existing tobacco laws.
There will be no smoking or vaping in vehicles, including passengers in the vehicle.
Only four plants can be grown per household, to a maximum height of one metre each.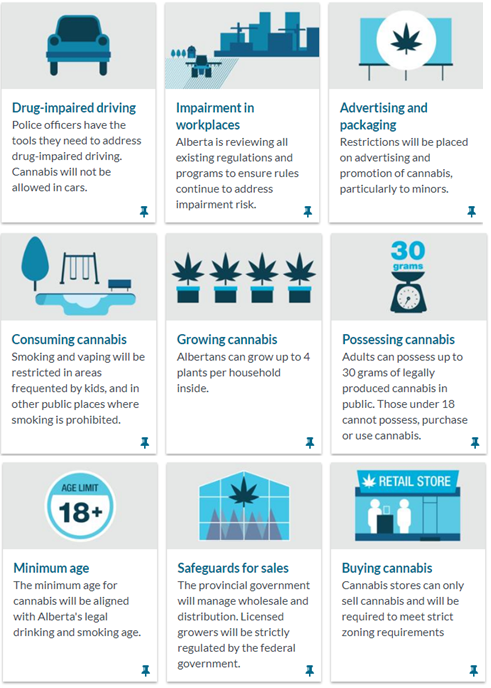 The public feedback website reads:
The Government of Canada has introduced legislation that will make cannabis, or marijuana, legal in Canada by July 2018. The Government of Alberta has received valuable input from Albertans and experts to help inform what cannabis legalization will look like. More than 45,000 people took our first online survey, and about 100 organizations took part in roundtable meetings or provided written submissions.
Public feedback can be made here.
If you are unable to visit the website, you can email the Cannabis Secretariat via acs@gov.ab.ca.  The deadline for all replies is Friday, October 27 at midnight.